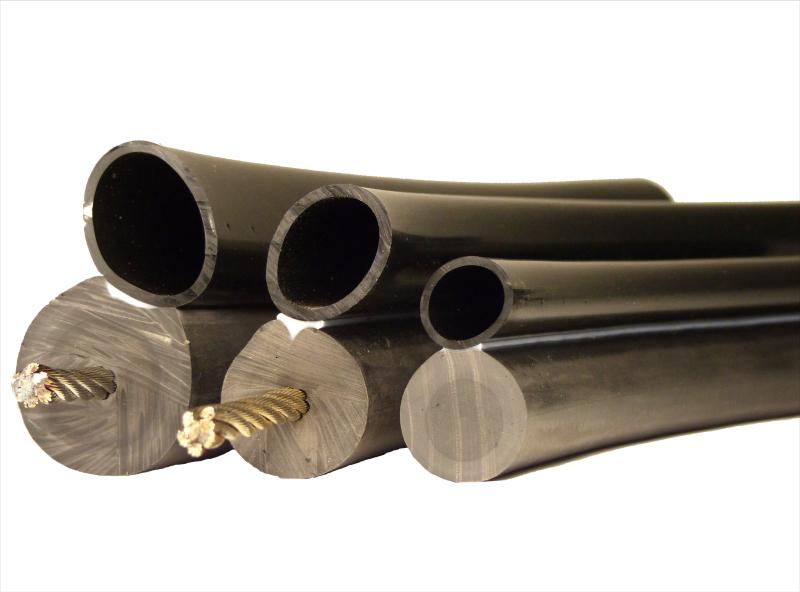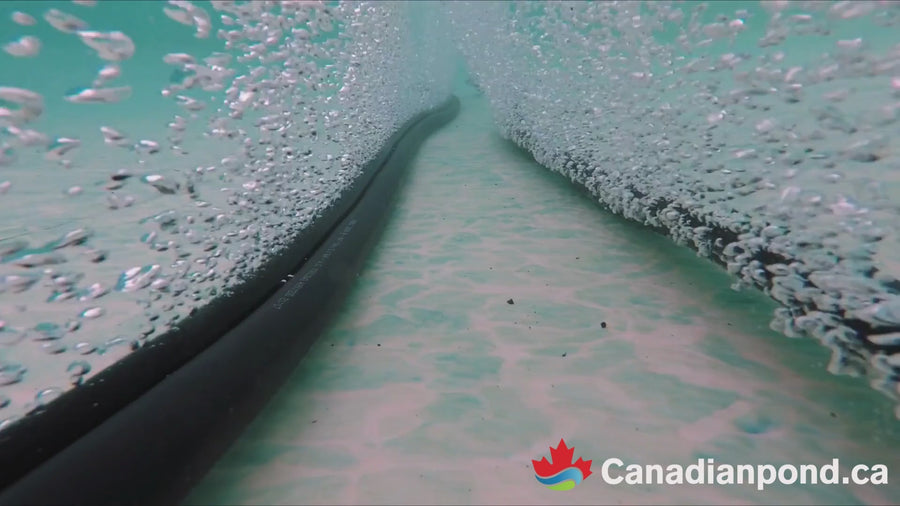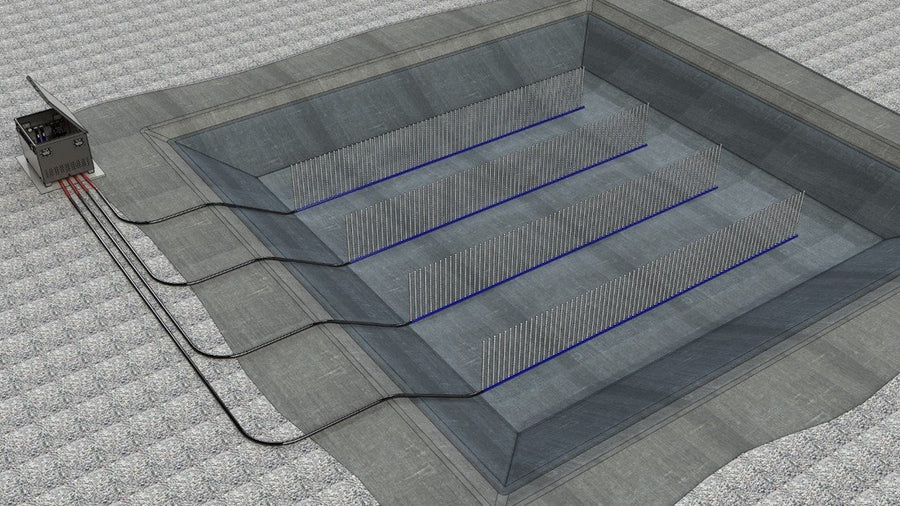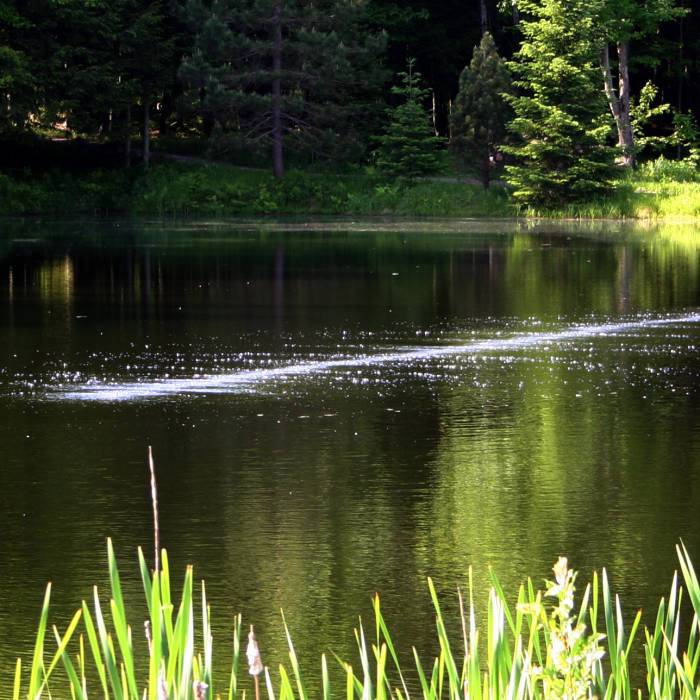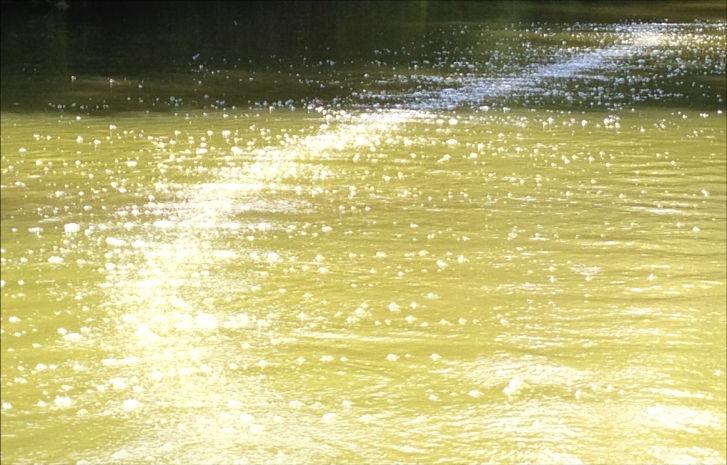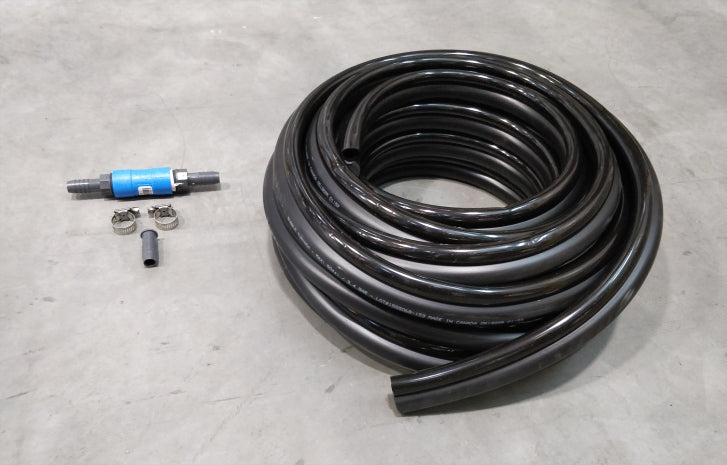 Price
Regular price

$209.00 CAD

Sale price

Regular price

$209.00 CAD
Shipping calculated at checkout
Fine bubble diffusers such as our Bubble Tubing® produce many tiny air bubbles (between 1 and 3 mm). These tiny bubbles rise steadily from the depths of all manners of aquatic landscapes, from wastewater treatment basins, to waterways, canals, ponds, lakes and lagoons. These bubbles provide a substantial and efficient mass transfer of oxygen into water. This oxygen, combined with organic nutrient sources, such as sewage and sediments, allows naturally occurring bacteria to produce enzymes to help break these sources down.
Available Formats (Inside Diameters)
15 mm ( ½") : Standard kits available online to purchase.
20 mm ( ¾") : Contact us for a quote
25 mm (1")

 : 

Contact us for a quote 
30 mm ( 1 ¼") : Contact us for a quote 
High oxygen transfer rate. A full evaluation of its oxygen transfer capabilities by an independent firm is available on demand.
Applications range from farm ponds to the largest industrial projects.
Suitable for fresh and saltwater applications, from shallow to deep waters.
Inner pressure prevents clogging; tubing is low maintenance and anti-fouling.
No moving parts or electricity in the water.
Highly resistant PVC (chemicals, salinity, temperature).
Weighted and non-weighted formats available.
Tubing can be purchased with all the necessary hardware, ready to install.
Video on Bubble Tubing®


Our Bubble Tubing® Products
Bubble Tubing® is sold standard cut, custom per foot, or by rolls of 500′. Contact us for prices and details.

It is also a component of:

Made using highly resistant and flexible PVC plastic, Bubble Tubing® keeps its shape and does not kink. When entering the tube, the compressed air creates an internal pressure. Precise perforations on both sides, going the entire length of the hose, allow this compressed air to be released in microscopic bubbles. Their size helps prevent the hose from fouling, a common problem seen in porous diffusers. Once released, the rising air forms a uniform bubble curtain that optimizes the transfer of oxygen. It also promotes water circulation throughout the water column, as it creates a rising current. 
Using Bubble Tubing® reduces pressure drops and does not require any underwater electricity. Bubble Tubing® offers a superior global aeration performance compared to other aeration devices. Bubble Tubing® reduces power consumption, installation and maintenance costs substantially.
When used in de-icing, the bubbles exiting the Bubble Tubing® drag the denser, heavier and warmer water from the depths to the surface. This movement of warmer water inhibits the formation of ice.
Bubble Tubing® has an excellent Standard Oxygen Transfer Efficiency (SOTE) and a great Standard Aeration Efficiency (SAE).


Included in the box (For kits sold online only)

1x Bubble Tubing® diffuser
1x Check Valve 
2x Collar
Instructions


Bubble Tubing® Sizing
I.D. sizes available: 15 mm ( ½"), 20 mm ( ¾") Contact us for a quote, 25 mm (1") ,  30 mm ( 1 ¼").

 

Available in weighted and non-weighted formats for 15 mm ( ½"), 20 mm ( ¾") formats.
20 mm ( ¾"), 25 mm (1") and 30 mm ( 1 ¼") formats have an integrated stainless steel cord as ballast, for strength and weight.
Available Lengths: roll, spool, special run and special cut lengths. Contact us for details.
Bubble Tubing® Test Results
In 2011 we tested the oxygen transfer capabilities of Bubble Tubing® through an independent firm, GSEE Inc of Laverne, Tennessee. The tests were carried out on the ½", ¾" Bubble tubing® and the OctoAir-10 industrial diffuser. In the summer of 2017 we gave GSEE Inc. another mandate to test the Bubble Tubing® at higher airflows and deeper depths, while also carrying out testing on our 1" Bubble tubing® and OctoAir-60 industrial diffuser.
"Overall, the results obtained for the CanadianPond.ca Products Ltd. aeration systems were uniformly excellent and produced some of the highest SOTE values GSEE Inc. has observed."
Gerald L.Shell GSEE Environmental Consultants, LaVergne, TN, Sept.2011
Technical Drawing (PDF) 

Tech Sheet (PDF) 
No matter the scale of operations the same basic principle applies: a compressor is connected to Bubble Tubing® through a heat hose line equipped with a check valve. We offer all the necessary products from start to finish to fully set-up a reliable and efficient aeration system for you. We can size the compressor for the application, suggest tubing layout, suggest cost effective design modifications, and offer to troubleshoot. Our experience designing aeration and de-icing systems with Bubble Tubing® is substantial, and our expertise is sought for many aeration projects.
How to install Bubble Tubing (PDF) 
Bubble Tubbing® require a compressor, costumers may choose between piston or diaphragm compressor. (Shop compressors here.) Compressor must be installed in a cabinet. This cabinet need to allow good air circulation to avoid overheating and protect de compressor from the weather. (More about cabinets here.) If the compressor is not installed in a cabinet, it is necessary that it is protected by a ventiled shelter. Once the shelter is identified, you will need to mount the compressor on its base and secure it with screws either to the wall, floor or on a shelf. Securing the base prevents the compressor from moving while it is running. It is not recommended to use an extension cord, make sure the electrical outlet is within reach of the compressor and fan wires; 1.8 m (6 feet). 
Schematic of a diffuser with Bubble Tubbing®;
Before connecting the Bubble Tubing® to the feeder line, unroll it, making sure it is not twisted. Tubing well straighten allows a uniform dispersion of air through all its length. Let the tubing rest unrolled before the installation of the system. 
Bubble Tubing® is also compatible with torpedo. (More about Torpedo here.) If requested in advance, the Bubble Tubing® can already be connected to the check valve (assembly cost may apply).
If installed in a large pond, Bubble Tubbing® installation can be done with a boat. Compressor must be started, unroll the pre-assembled hose to the shore and put the rest of the roll in the boat. While keeping the Torpedo feeder line in hands, go on the water and uncoil the Torpedo line until you reach the desired location for the Bubble Tubbing® diffuser. With the diffuser already connected to the Torpedo air feeder line, slowly continue lowering into the water the diffuser as it self-sinks to the bottom. With the compressor turned on, you should see bubbles and be able to use them as visual reference to make sure the tubing is diffusing through its length.
If installed in a smaller pond, it is also very possible to install the system without a boat. (It is even recommended.) Start the compressor right before installing the diffuser in the water, the bubble will guide you to settle the diffuser at the desired place in the water. TUse a long rope (twice the length of the pond) and a small cord (1 to 2 feet long). Form a loop at the end of the diffuser using the small cord (loop shown in the images below). Pass the long rope through this loop, and while holding both ends of the long rope, use it to pull the diffuser into place in the water. The diffuser will sink into place at the bottom of the water. A second person should be hanging on the feeder line to help with the placement of the diffuser. Once in line with the wanted position, release one end of the long rope and pull on the other end to retrieve your rope. 
Do not underestimate positionning of the Bubble Tubing®, air is lazy, it will find the quickest way to go up. Place the Bubble Tubing® at the same depth keeping it as level as possible (maximum 1 foot drop). The tubing can be placed in a circle, curve, or straight line to follow a continuous bathymetric line (level curve at the bottom of the pond). Note that even if the Bubble Tubing® does not bubble evenly, you will still ensure a "vertical" water circulation in your pond. We recommend the use of a "depth finder" tool if you do not know the level curve at the bottom of the pond.
If you install your unit into a body of water that is extremely stratified, use caution as you start it up. Suggested startup time for the unit for a stratified lake might be initially running for 1 hour per day during daylight hours for the first week and gradually increase operation by increment of 1 hour until running continuously. Sunny days are preferable to cloudy days because photosynthesis provides oxygen while the water circulates and mixes. For more information on the soft start procedure, click here.
Our Bubble Tubing® has been used for over a decade in a wide array of applications by various industries, governments, and private clients. Manufacturing and processing plants, mining, port authorities, aquaculture, agriculture, waterways and canals, parks and recreation, engineering, landscaping and reclamation firms, marine construction, universities and research facilities, ponds and lakes, are all markets currently using Bubble Tubing®. You can now find Bubble Tubing® on every continent of our planet.


Aeration, Deicing and Bubble Curtains applications include (but are not limited to the following):


Aerating various bodies of water such as:

Sewage lagoons, wastewater treatment process plants, leachate ponds and septic systems;
Earthen ponds, dugouts, lakes;
Waterways and channels;
Stormwater retention ponds.

Deicing docks, power plant water intakes, marina slips, shoreline and water retention structures, nautical structures and ports, industrial ship moorings, ocean freight & maritime transport, pumping operations and nuclear power generating plants.
Efficient Bottom-to-Top Water Circulation and Mixing for water treatment, deicing, and other applications
Pathogen Reduction, the bubbles lift deeper waters to the surface and expose them to UV rays that destroy some types of pathogens
Underwater Air Bubble Curtains for:
Aquaculture, to create barriers between harmful algae blooms and the fish
Protecting fish and marine mammals from underwater shock waves caused by blasting, pile driving, stripping, drilling, seismic oil operations and other such underwater endeavors that produce noise
Creating a physical barrier to divert marine wildlife and floating debris. Bubble barriers can prevent or reduce the presence of jellyfish, fish, drifting plant material, debris, sediments, etc. behind or within the bubble curtains
Diverting marine mammals away from offshore oil platforms, wind power farm construction and continuous operations' vibrations and noises (machinery and engine noise)
Containing oil spills within a given area
Water Quality improvement for increasing water clarity, reducing algae blooms and reducing hydrogen sulphide (H

2

S) production for odour suppression.