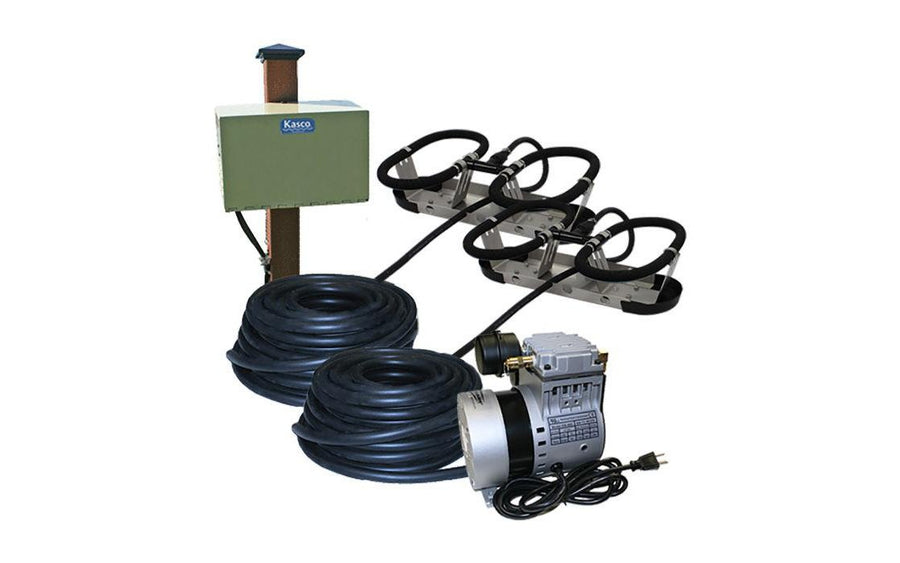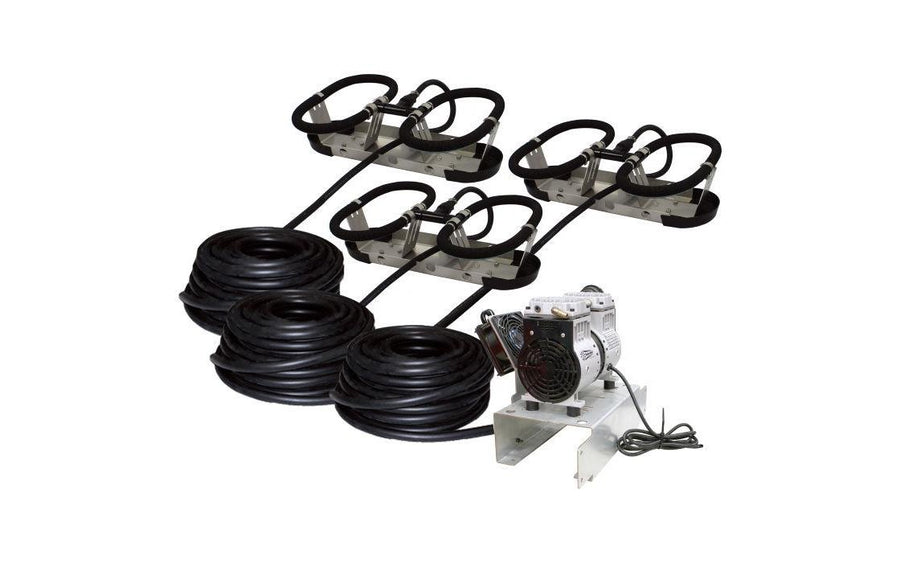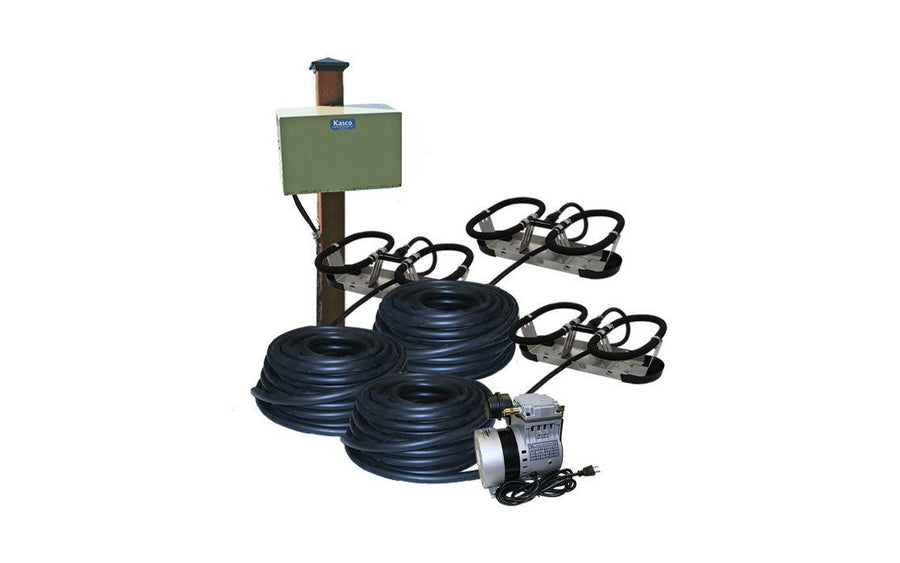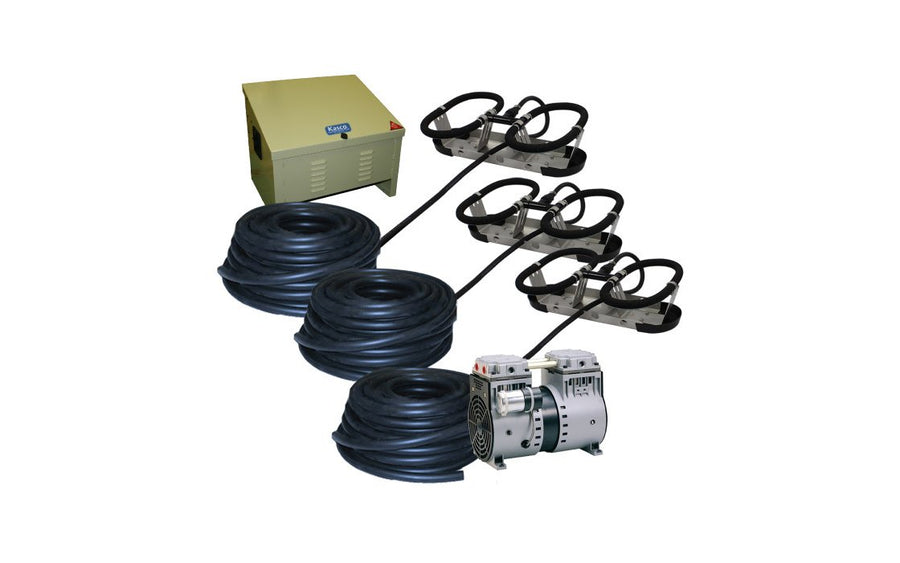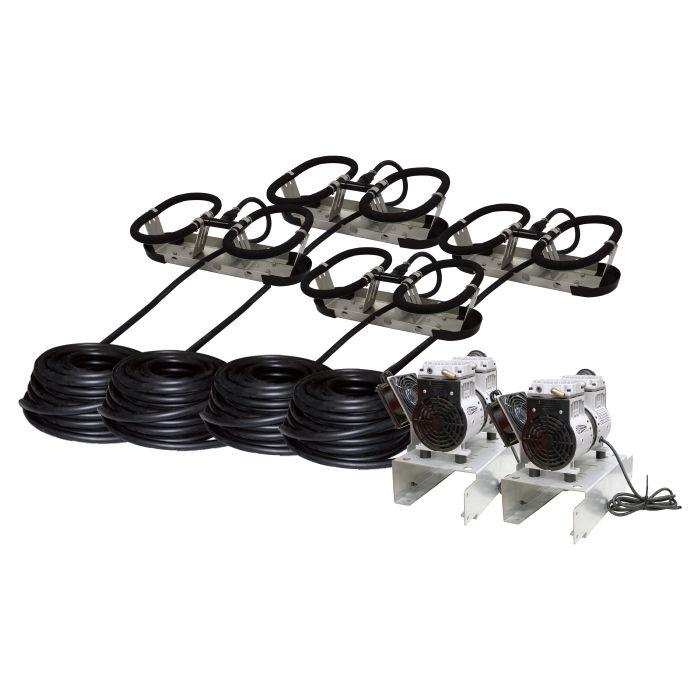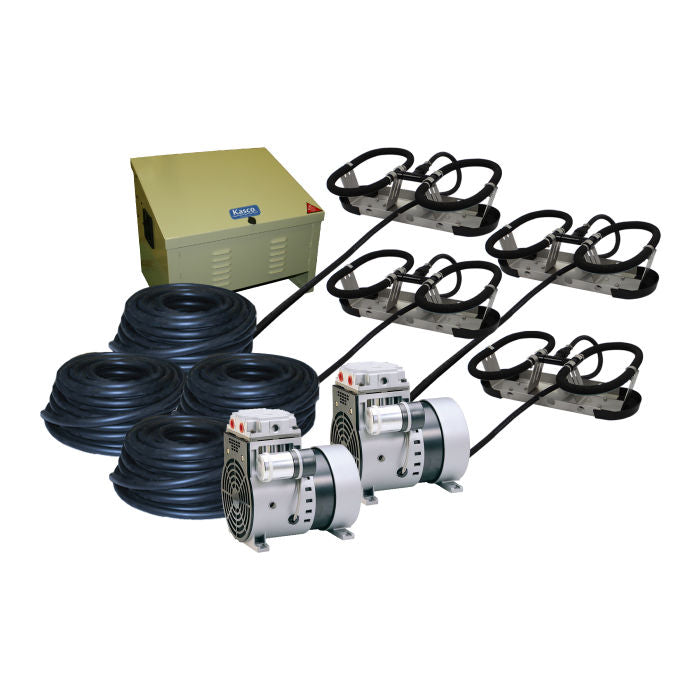 Price
Regular price

$1,999.00 CAD

Sale price

Regular price

$1,999.00 CAD
Robust-Aire™ systems pump compressed air from a shore-mounted compressor through self-weighted lines to a diffuser on the pond, lake, or tank bottom. The diffuser then continuously releases micro-bubbles that rise to the surface carrying large volumes of water. This induces oxygen-transfer as well as beneficial water movement and mixing.
Comparison Table of Aeration Systems
SYSTEMS

 

 

 

 

 

SAS XL

Ideal for:

Small shallow ponds

Small shallow ponds

Small ponds

Medium ponds with level bottom

Medium ponds with bowl-shape bottom

Pond size

Up to 5 000 ft2

Up to 5 000 ft2

Up to 5 000 ft2

Max. depth

Up to 4 ft depth

Up to 10' deep

Up to 20 ft depth

Up to 20 ft depth

Up to 25 ft depth

Diffuser

Choice of 1 to 2 Piccolo circular diffusers

1 or 2 round Piccolo diffusers

Piccolo diffuser or 25' of Bubble Tubing

Bubble Tubing 25', 50' or 100'

1 to 6 Robust-Aire diffusers

Compressor type

Linear


Linear

Diaphragm

Piston

Piston

Price:
589$ - 989$
789$ - 1 139$
1 149$
1 499$ - 5 349$
1 999$ - 6 449$
For private ponds, lakes, reservoirs, stormwater retention ponds and other similar bodies of water. Robust-Aire systems allow for a continuous aeration of shallow to deep water.


No electricity in the water
No equipment floating on the surface, allowing for safe circulation on the water and a more natural look.
No shoreside power required, since the compressor can be installed far from the pond.
Ideal for deep water application
Low cost for large lake areas.
Minimal maintenance
3 years warranty
RA5 (5 diffusers) and RA6 (6 diffusers) systems are also available; please contact us for a quote. 

Robust-Aire Diffusers
The diffusers are designed to produce fine air bubbles with minimum pressure. The base is made of durable plastic and comes with a seal that allows you to fill the base with gravel or other ballast substrate. The design keeps the diffusers at an optimal level above the pond bottom. The fittings are durable and bolted to ensure that the ballasted pipe does not come loose during installation or while maintaining the diffusers. A check valve with Viton seals prevents water from entering the pipe when the system is not in operation.
Self-Sinking Airline

Available in easy to handle rolls of 100 feet. Rolls are delivered in a box and come with our complete set of connectors, fittings and all necessary stainless steel collars. Additional lengths of ballasted hose ⅜″or ⅝″ are available when required (special order of SureSink™ Weighted Air Line Tubing).
1 diffuser (RA1) : 100 feet of 3/8" self sinking tubing
2 diffusers (RA2) : 2x100 feet of 3/8" self sinking tubing
3 diffusers (RA3) : 3x100 feet of 3/8" self sinking tubing
4 diffusers(RA4) : Tubing not included
RA5 (5 diffusers) and RA6 (6 diffusers) systems are also available; please contact us for a quote. 
Cabinet & Compressor
Choice of ground cabinet, post mounted cabinet or no cabinet (must be protected in a shed). See our page on cabinets to learn more.
Floor-mounted cabinet:

Floor cabinet dimensions 61 x 46 x 51cm (24'' x 18''x 20") 
A 120V outlet or a 240V junction box
A unique cooling fan providing 110 CFM of ventilation
A compressor is factory-installed in the cabinet, which is equipped with acoustic foam and a key lock.
Cabinet for post or wall:
The post mounted cabinet (PM) is mounted on an exterior wall or wooden post (not included).
Dimensions 48 x 30 x 30 cm (19'' x 12'' x 12″)
A 120V outlet or a 240V junction box
A unique cooling fan providing 110 CFM of ventilation
A compressor that is factory-installed in the cabinet, which is equipped with acoustic foam and a key lock