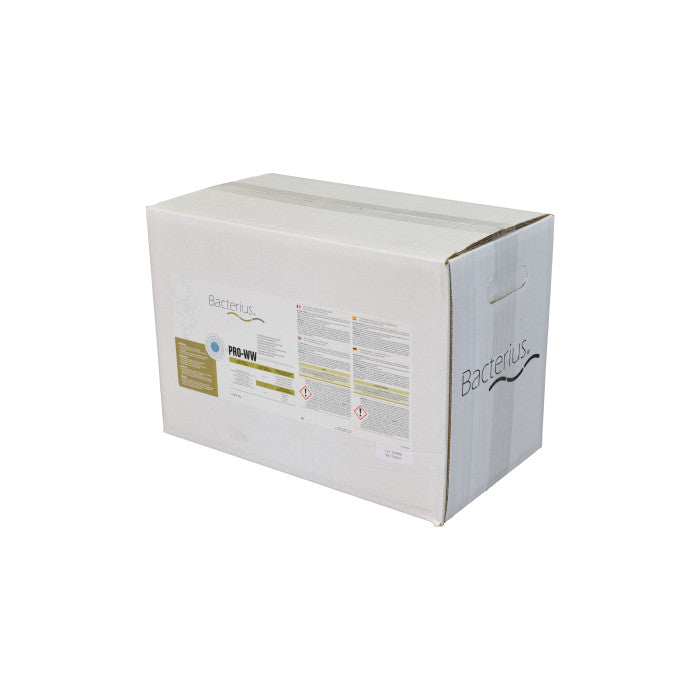 Price
Regular price

$595.00 CAD

Sale price

Regular price

$595.00 CAD
Shipping calculated at checkout
The Bacterius PRO WW is effective at increasing a plant's ability to process fats, chemicals and various pollutants through an efficient biomass support system. PRO WW strives to minimize stress-related issues and optimize a plant's ability to handle excessive overload. It makes it possible to treat high loads without adversely affecting the quality of the effluents.
A synergistic blend of selectively adapted bacteria which produce a rapid degradation of problematic compounds found in Industrial and Municipal waste systems.
Degrades the recalcitrant portion of the grease molecule, the long-chain fatty acids, which cause the majority of maintenance and treatment problems. 
Effective at temperatures up to 45 degrees celcius. 
Active at low pH levels. The addition of Bacterius PRO-WW alleviates low pH problems by breaking down the fatty acids. 
Stability: Maximum loss of 1 log a year
Moisture content: Below 15% 
Formats: 45 x 250g water-soluble pouches 
We guarantee that the product has been manufactured under strict quality control standards that ensure optimal product quality.
Technical sheet (PDF) 
SDS (PDF) 
Dosage : 
Varies according to demand.
Example of a typical dosage for 1 acre:
1st week - initial shock treatment: 25 kg (100 pouches) per day for 5 days
2nd week: 12.5 kg (50 pouches) per day for 5 days
3rd week: 6.25 kg (25 pouches) per day for 5 days
Maintenance: 1-2 kg (4-8 pouches) per week.
Application: 
PRO WW may be added directly to the waste influent stream or aerated basin. For toxic waste or short retention times, rehydration for between 30 to 90 minutes before its addition to a waste system is recommended, using 9 litres of water per 500g of Bacterius PRO WW. For best results, the water teperature range should be between 21 and 31 degree celsius.
Storage: 
Prevent from freezing. Store in a cool, dry place at room temperature. The recommended storage temperature is within a range of 1 and 23 degree celsius.