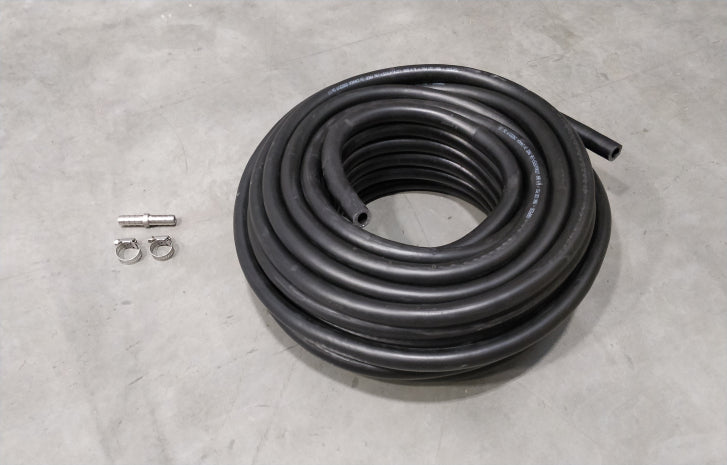 Price
Regular price

$189.00 CAD

Sale price

Regular price

$0.00 CAD

$189.00 CAD
Shipping calculated at checkout
Eliminates the need for weights or external anchors
Rests on the bottom, away from swimmers and boats
Black color makes it invisible from the surface, maintaining a natural look
Kink-free
More supple than most self-sinking lines, so it is easier to unroll and work with
Built from a high-density flexible PVC composite for easy handling and installation
Thick internal walls prevent easy perforation by debris or rocks
UV resistant Torpedo™ Tubing layout with Bubble tubing
Stays flexible in cold water
Rodent resistant (beavers, muskrats)
Working pressure 80 PSI @ 20°C (68°F)
Our industrial grade weighted hose is reinforced with a polyester braided sleeving to better prevent bursting or expansion due to overheating and/or back pressure. The fiberglass layer also serves to help prevent punctures from rodents or sharp objects. It performs well up to a maximum pressure of 80 psi, compared to regular ballasted hoses.

The Torpedo™ is weighted and metal free; it resists twisting and is designed to be the air supply hose line in your aeration projects.

This ballasted air intake pipe sinks from its own weight in water because its density is higher than that of water. This makes for a quick and efficient installation of your aeration system. It is available in ⅜″, ½″, ¾″ and 1" inner hole diameter sizes to suit all needs.

Installing your air distribution system has never been easier! The Torpedo weighted hose stays in place at the bottom of the water and won't disturb swimmers or boat propellers. Its dark color makes it virtually invisible once in the water and keeps your body of water looking natural. This hose is very flexible compared to other products on the market, even in very cold water, which makes it easy to install.

Warranty : 3 years coverage on manufacturing defects
Tech Sheet (PDF) 
Drawing Torpedo (PDF) 
Torpedo Reinforced Weighted Hose is offered in these dimensions:
TORI12 – 0.550" ID x 0.910" OD. Lengths: 50,100,150, 500 ft reel or custom cut (15m, 30m, 45m or 152m)
TORI34 – 0.800" ID x 1.300" OD. Lengths: 300 ft reel or custom cut (91m)
TORI1.0 – 1.06" ID x 1.6" OD. Lengths: 300 ft reel (91m)
We can help you decide which size is best suited to your needs by taking into consideration the distance to available electricity and the distance between the diffuser and the compressor. Torpedo™ Tubing joins easily to Bubble Tubing® and other types of poly hose.

We sell all the necessary hardware to put any aeration system together. Please contact us for assistance or if you have any questions.