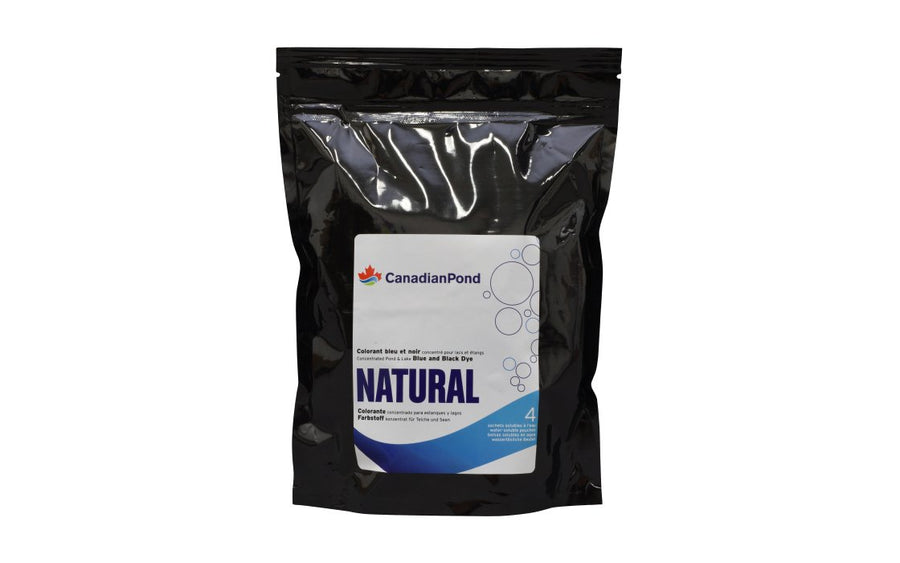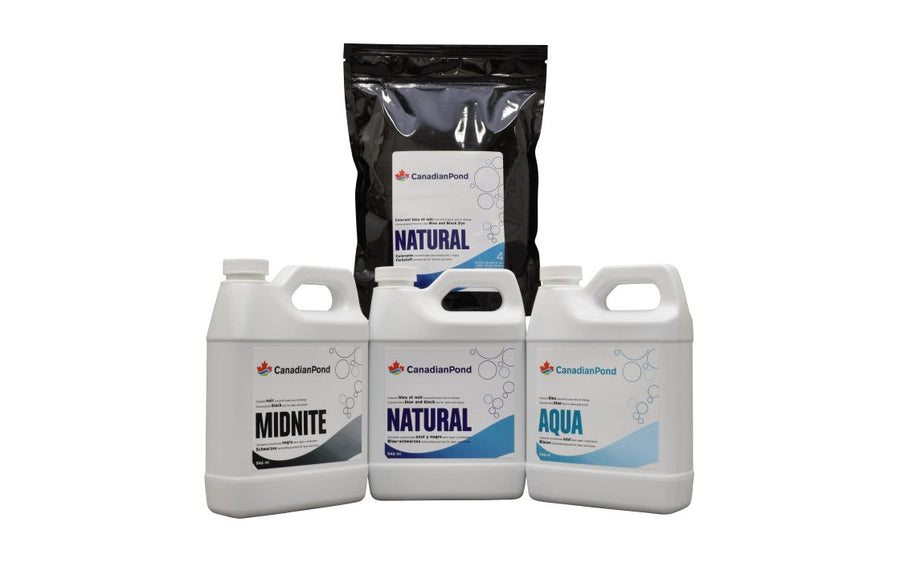 Price
Sale price

Regular price

$88.00 CAD
Shipping calculated at checkout
Pond dye helps block UV rays that enter a pond. It is the UV rays that go deep into a pond providing light for photosynthesis required for plant and algae growth. When we use a pond dye, we block some of that light, helping control growth of some algae and some unwanted submerged aquatic plants.
Filters sunlight and provides an aesthetically pleasing, natural appearance to pond water;
Keeps water temperature cooler;
Blocks up to 40% of the sun's rays to effectively starve the growth of existing algae and formation of new growth;
Contributes to algae and aquatic weeds reduction in garden ponds & small lakes;
Easy to apply and lasts 4 to 6 weeks depending on water flow.
With our CanadianPond NATURAL Aquatic Dye, we carefully chose shades of blue and grey, with a touch of black, to give the effect of deep, cool water, that is highly reflective of UV rays while appearing as natural looking as possible.
Think of a deep, cool lake that you would find in the Canadian Shield, and recall how the light reflects off the water surface, onto the moss covered Canadian Shield: this is the effect that CanadianPond NATURAL Dye can have in your pond.
Double bagged with water soluble pouches, simply toss as is!
Available only in a dark natural blue colour;
Super-concentrated formula (>84% pure pigments);
Will not stain plants, pets, birds or swimmers when applied at the recommended rate;
CanadianPond NATURAL Dye is not harmful to the environment;
Completely free of pesticides and herbicides.
We guarantee that the product has been manufactured under strict quality control standards that ensure optimal product quality.
Tech Sheet (PDF)
SDS (PDF)

1 soluble pouch will treat 2 500 m³ (slightly smaller than 1 acre pond with a dept of approx 6 ft deep)
Doubled dry soluble (corn based) pouches; simply toss into pond or lake and within 1-2 hours the water body will be colored. Can be mixed quickly and evenly throughout the pond with the use of a fountain, aerator or similar mechanical device.
The dual pouch system will dissolve in the water within one minute, the double pouch system is there to protect your fingers and clothes from stains! Important: do not cut open the pouches!
Repeat monthly or as needed, as pigments will oxidize and gradually disappear.
This product does not contain bacteria.
Use Bacterius® 1B, 5B, C, N, POND, EQUINOX for sludge control and reducing nutrients.
Avoid contact with eyes. Do not ingest. Keep out of reach of children. Reapply product as needed. Will stain clothing. Do not freeze.
FOR A LARGE-SCALE USE, PLEASE CONSULT US.
Repeat purchaser
I am satisfied with the products, speed of the order being processed, and delivery. We use the products on our six ponds within our cage-free Cottage Dog Lifestyle Pet Resort in Muskoka. (www.HappyTailsMuskoka.com). We have lots of frogs, pollywogs, salamanders, etc., and it is effective and safe for them and our fur kid guests. We have a pretty happy following watching our many cottage dog guests' enjoying our ponds.
I plan to purchase something soon to skim off the floating fall leaves and pine needles on our ponds. I noticed it when I last ordered from them.
very good product. works as described. package arrived intact and my pond was treated with a single pack
took about 36 hours to stabilize the colour. Pond looks like Lac Boivair