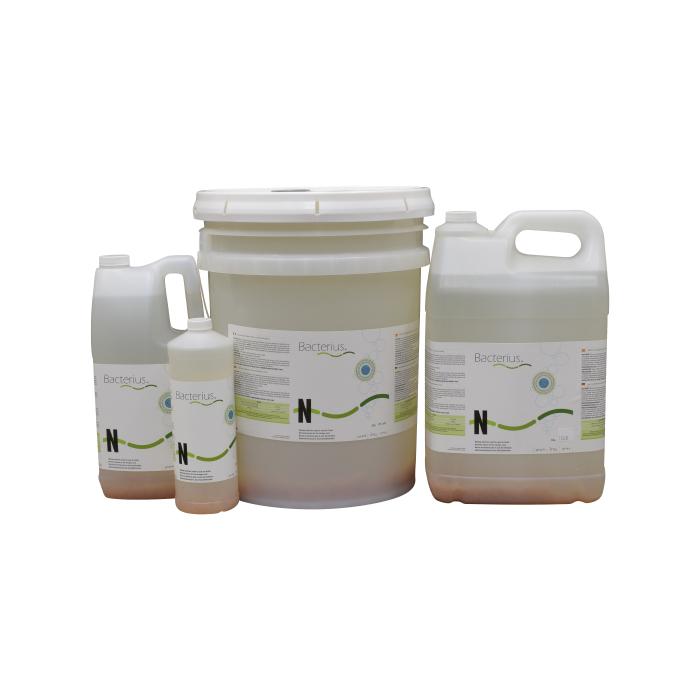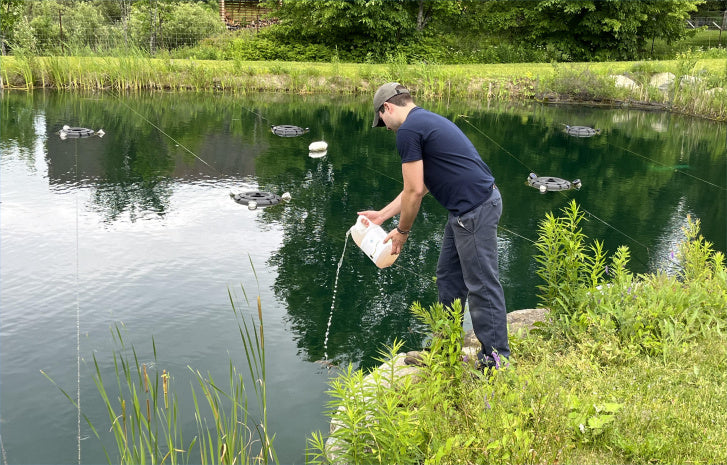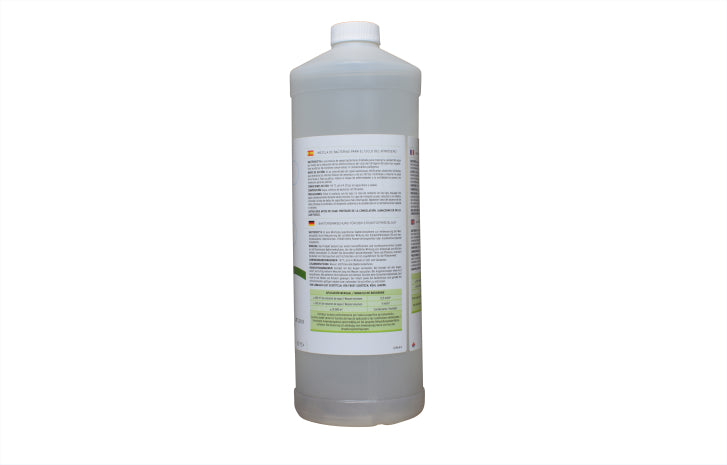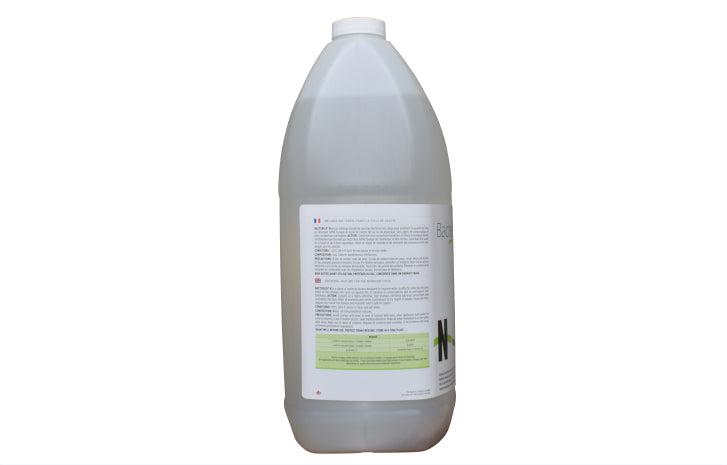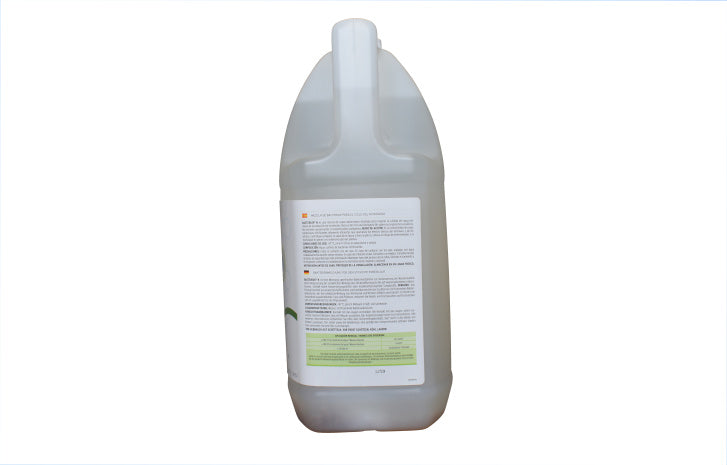 Price
Sale price

Regular price

$23.25 CAD
Shipping calculated at checkout
Features a high-biomass, high-performance nitrifying bacteria consortium
Specifically to eliminate ammonia and nitrites in aquatic ecosystems
Actively oxidizes ammonia and nitrites, neutralizing their toxic effect on the aquatic life
Helps maintain a balanced aquatic ecosystem
Contributes positively to the health of aquatic animals and plant life
Reduces the risk of sickness and death among fish and plants
The intake of nitrifying bacteria is justified because of the intense biological activity, the decomposition of plant residues and the accumulation of droppings and uneaten fish food and ammonia which tends to accumulate rapidly in closed or semi-open aquatic environments.
It remains imperative to prevent this accumulation because ammonia is a chemical compound extremely toxic to any aquatic environment.

The nitrifying bacteria found in Bacterius® N have the ability to rapidly oxidize ammonia and nitrites to a non-toxic nitrogen compound. Using Bacterius® N in aquatic environments is beneficial and provides an effective solution for regulating nitrogen compounds.
Features of Bacterius® N
More than 500 mg of active nitrifying bacteria per liter
Highly stable
No chemical preservatives
Free of pathogenic contaminants
Active in fresh and salt water
Complete genetic profile available
Please note that this product is frost sensitive and we do not ship if temperatures are expected to be below freezing. If you are ordering in the winter, please allow for a delay accordingly or come and pick it up at the store. 
We guarantee that the product has been manufactured under strict quality control standards that ensure optimal product quality.
We guarantee that the product has been manufactured under strict quality control standards that ensure optimal product quality.
Tech Sheet (PDF)
SDS (PDF)

For monthly dosage: Dosage may vary depending on application and environmental conditions.
Add the treatment dose evenly over the surface to be treated.
≤ 100 m³ of water volume: 12.5 ml / m³
> 100 m³ of water volume: 5 ml / m³
Conditions: +10ºC, pH 5-9. Active in fresh and salt water.
SHAKE WELL BEFORE USE.
 Storage: Store in a dry area and away from freezing.
Efficace
Depuis quelques années et avec vos conseils j'utilise vos produits pour l'entretien de mon Jardin D'eau.
(Bctérius) Pour le moment très satisfait des résultats.
J'apprécie aussi les communications avec votre entreprise, le personnel est sympathique et c'est toujours agréable d'obtenir des informations et des conseils. Pour le service de livraison il est très rapide.
Merci
Serge Girard
Magnifique produit
Bonjour j'adore votre produit j'ai un bassin intérieur qui ne gèle pas et j'aimerais savoir encore le dosage au deux semaine du produit N .
Mon bassin mesure 24 pieds de long x 6 pieds de large x 2 pieds de profond
Combien de millilitres au deux semaines
J'ai des Koïs Japonais depuis environ 20 ans ils sont énormes 15- 20-25 Lbs et + j'en ai une douzaine
Merci beaucoup je viens dans commander encore un l0 litres il y a 3 jours
André Dorais
Bonjour Mr Dorais,
Merci beaucoup pour votre avis positif sur le produit Bacterius N! Votre demande de dosage a été envoyée à l'équipe des ventes et quelqu'un vous répondra par courriel sous peu. Merci encore de choisir nos produits pour l'entretien de votre étang! :)
Bacterius N
Produits miraculeux 200% satisfait 🙏👏👏👏👍🐟
Aucun résultat
Je suis vraiment dessus car après trois mois d'utilisation je n'ai absolument pas de résultat. Et j'ai suivi les conseils du représentant à qui j'ai parlé, les quantités et au combien de temps…
J'ai utilisé Baterius N et C j'ai toujours des algues visqueuses et de la vase.
Pour le prix, c'est vraiment du gaspillage d'argent car c'est vraiment coûteux.
Bonjour Ysabelle,
Merci pour votre avis concernant le produit Bacterius N. Un étang étant un milieu vivant, les résultats des produits de traitement d'eau par bactéries Bacterius peuvent varier d'un étang à l'autre. Nous remarquons tout de même que des résultats positifs sont observés entre quelques semaines à 1 été complet. Selon notre système, 6 semaines se sont écoulés entre l'expédition de votre commande et votre avis, ce délai étant relativement court pour voir un effet important, nous recommandons donc de poursuivre les traitements.
Pour toute question n'hésitez pas à nous contacter, nous serons ravis de vous aider dans votre démarche pour un étang en santé! Au plaisir!
courriel pour nous rejoindre: info@canadianpond.ca
Great Product, shipping is expensive!
I think the Bacterius N, Nitrifying Bacteria product is excellent and works really well. Thank you for making it! The only issue I have is the expensive shipping costs which cost me twice the listed item price of the product, going from their Quebec warehouse to a major city in Alberta. I suggest that Canadianpond.ca considers being a seller on Amazon to reduce the shipping costs to the consumers. I hope that can work for you and your customers.
Hi David,
First we would like to thank you for your review on the Bacterius N products. We are very happy that you are satisfied with this product!
We also wanted to let you know that we just launched our Bacterius store on Amazon.ca a few weeks ago so you can purchase Bacterius products through Amazon. We are starting with a limited amount of skus which does not include the Bacterius N unfortunately but we are thinking to expand the range eventually. Keep looking at our store to see if the Bacterius N becomes available on Amazon.ca.
Store Link: https://www.amazon.ca/stores/Bacterius%C2%AE/page/D3E19EF1-2056-4741-B71D-A982A87DAF84?ref_=ast_bln