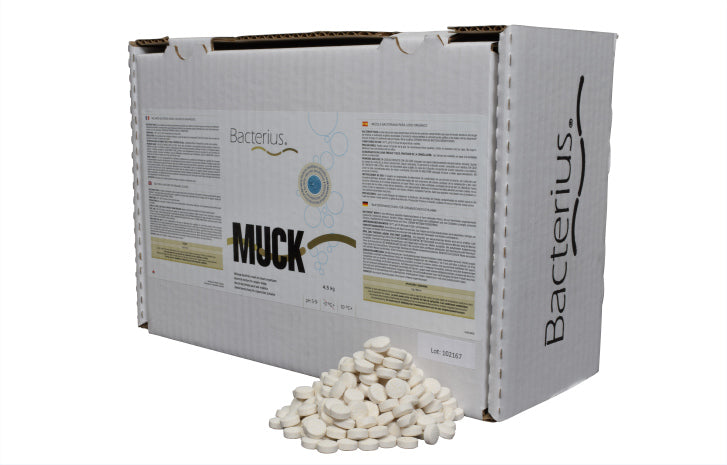 Price
Regular price

$215.75 CAD

Sale price

Regular price

$200.00 CAD

$215.75 CAD
Shipping calculated at checkout
Concentrated bacterial pellets for treating shoreline Bacterius® MUCK is easy to apply and will sink to the surface of the sediment where they are needed most. You can also rake them inside the muck for faster results!
      Deals with specific locations, under docks and near piers.

      Ideal for beaches, chalet swimming areas and boat traffic channels.
      The treatment stays where you apply it, close to the shore!
      Easy to use, efficient and economical
      Helps control plant growth
Testimonial of a satisfied customer : 
" We have a small pond which is surrounded by trees that is used for swimming in the summer. Over the years the bottom was increasingly covered in soft mud and some water weeds started to grow in the swimming area. In2020 we used a one time application of Bacterius Muck at the end of the swimming season and the following summer everyone commented on how much more clear the water was and how in the swimming area the bottom feltlike sand instead of muck. The fish and frog who live in the pond were still healthy and the swimming area was so much more enjoyable! The Bacterius Muck was very easy to apply in the areas where the treatment was needed and we are so pleased with the results we are repeating the treatment with Bacterius Muck again. Great product, great service! Thank you! " 
K. Smolynec  
Bolton ESt,Quebec
The granules are simply thrown onto the surface rich in sediment to be treated. Bacteria will start to consume the sometimes thick layer of organic sediment that makes swimming so unpleasant. Bacterius® MUCK stays where you applied it and works in situ, in direct contact with the sediment, rather than being diluted in the water column. Active in fresh and salt water. 

Once in contact with the sludge, the granules gradually dissolve and release the bacteria which feed on the organic sediment. Bacterius® MUCK also reduces sulphides and bad odors generated by sludge.

The product is even more effective in the presence of bottom aeration. We recommend checking compliance with government authorities prior to use.

Box content : 10Lbs box = 30 pouches  /  25Lbs box = 75 Pouches
Storage : Store in a cool, dry place. Protect from freezing. Safe for flora and fauna.

Precautions : Direct contact with the skin may cause skin irritation. Gloves are recommended. Avoid contact with eyes. Do not ingest. Keep out of the reach of children.
We guarantee that the product has been manufactured under strict quality control standards that ensure optimal product quality.
Tech Sheet (PDF)
SDS (PDF)
Easy to apply! Follow these simple steps for optimal results:
   1.   Make sure the water is 

10°C/50 F or more. This product is more effective during the summer months (June to September) 

   2.   To reduce product drift, make sure to do treatment on a calm day. 

   3.   Calculate the proper dosage depending on the surface area to be treated :  kg / 900 m² or 1 Lb /4 000 pi²
   4.   Toss the pellets evenly over the water surface. These will sink to the bottom in the water in the muck and begin to dissolve to release the bacteria. 
   5.   Double the dosage for shock treatment. 
* Treatment should be done as needed. Although if a heavy muck accumulation has been identified, start with a treatment every 2 weeks and reduce to monthly once the accumulation of muck has reduced. 
* Aeration enhances the product performance, follow this link to see our aeration systems : Click here
You have pictures of before and after? Do not hesitate to share with us :) : info@canadianpond.ca
Mode d'utilisation
Mon seul reproche à faire c'est qu'il n'y a pas un mode d'emploi détaillé pour l'utilisation du Muck. La première fois, il n'a pas agi car il y avait beaucoup trop de boue. Nous avons retiré une bonne quantité et ensuite commandé une deuxième boîte. Devrais-je l'appliquer en septembre ou attendre au printemps?
Un mode d'emploi précis serait très utile.
Bonjour Madame Arbour, premièrement merci d'avoir laissé un avis sur le Bactérius® Muck. Pour le mode d'emploi du produit, merci de vous référer à notre page produit dans la section 'Dosage et Application', la procédure d'utilisation y est détaillée.
Le Bactérius® Muck est efficace lorsque l'eau est a une température de 10°C/50 F ou plus donc ce produit est plus efficace durant les mois d'été (juin à septembre).
Merci encore pour votre commentaire et n'hésitez pas à nous contacter si vous avez d'autres questions, il nous fera plaisir de vous aider! info@canadianpond.ca
Great product
This is my second year using the Bacterious products to help break down the muck and sludge in our pond. It has made a visible and noticeable difference to the enjoyment of our pond. The pond is used for swimming and has a very healthy ecosystem with fish frogs and turtles. The bacterious has been really helpful in breaking down the muck that had accumulated after many years of neglect and we are getting close to simply moving into a maintenance regime. Its also great to be able to use a Canadian made product!! The new pellet formulation makes the application alot better too.
Muck busting
Been using the muck busting tablets for years in our swimming area. When we first got the place we had about 4" of muck now down to little to no muck. I know use the tablets just for maintenance on a monthly basis. Fast and great service
Steve
Clearer water
I 1st purchased this last year, and used it over the summer. It made quite a difference in the amount of muck. I am hoping that applying it again this year will improve the amount of muck even more.