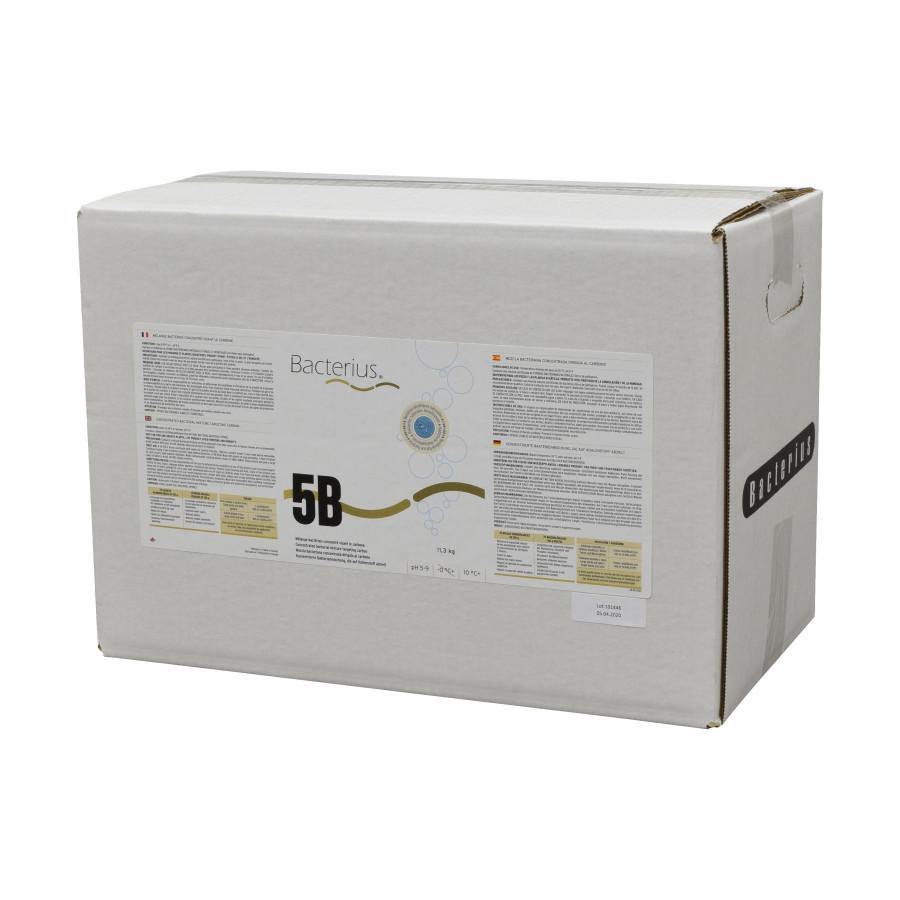 Price
Regular price

$295.00 CAD

Sale price

Regular price

$295.00 CAD
Shipping calculated at checkout
Bacterius® 5B reduces the accumulation of decaying plants, grass clippings, leaves, fish wastes and other organic materials and helps:
Reduce and prevent the proliferation of algae
Improve water clarity in ponds and lakes
Reduce odours associated with anoxic conditions
Reduce lake bottom sludge and mucky pond sediments
Control excess nutrients that contribute to algae growth
Enhance the aquatic environment and restores equilibrium to the ecosystem.
Bacterius® 5B concentrated bacteria dry formulation consists of billions of microbial cultures made up of beneficial natural bacterial strains specifically chosen to reduce dissolved organic carbon and organic sediments consisting of both cellulose and lignin components of dead and decaying algae and vegetation.

Use Bacterius® 5B concentrated bacteria in your pond or lake for severe or persistent algae blooms, deep nutrient-rich organic sediments and unpleasant odour problems. The concentrated bacteria formulation in Bacterius® 5B acts quickly, hastening the process of organic decomposition when applied regularly and in the presence of lake bottom aeration. All our beneficial bacteria need oxygen to function and are far more effective in the presence of dissolved air provided by lake bottom aeration.

With 5 billion active cells per gram, the pure and pathogen-free cultures in Bacterius® 5B are the strongest pond & lake bacteria available. No need for premixing or messy dilution, 5B is packaged in pre-measured, half pound water-soluble packets, to allow for easy dosing. Simply toss in the appropriate number of pouches into the pond or at the lake shoreline, as the pouches dissolve, they release the beneficial bacteria into the water column, where they sink down and begin the process of consuming the nutrient rich muck.
Bacterius® 5B is an effective treatment to remove organic matter that causes water clarity problems. Bacterius® 5B reduces the odor and murky water associated with various types of accumulated organic wastes in lakes and ponds. This premium blend of natural bacterial cultures is an extra-strength pure bacterial mixture for accelerated treatment. This bacterial mixture provides an aggressive yet safe way to combat algae without the use of harsh chemicals.
Bacterius® 5B improves overall water clarity and reduces odors, naturally enhancing the entire aquatic environment with no chemicals. When even the frogs won't come to your pond, perhaps it's time for Bacterius® 5B!
We guarantee that the product has been manufactured under strict quality control standards that ensure optimal product quality.
Box content : 10Lbs box = 30 pouches  /  25Lbs box = 75 Pouches
Tech Sheet (PDF)

SDS (PDF)
Living product: avoid freezing and humidity exposure.
FOR A LARGE-SCALE USE, PLEASE CONSULT US.
Weekly dosage varies depending on the application, age of the pond, the fish and plant density and the amount of organic matter. Conditions needed: +10 °C / 50° F, pH 5 – 9
Dosage small ponds : 1 pouch / 200 m² (2000 ft²)
Dosage large ponds and lakes: 1 pouches / 400 m² (4000 ft²)

How an application works: 
1.Once you've thrown the bag in the pond, it floats at the surface. 
2.Within a minute, upon contact with water, the cornstarch bag begins to disintegrate, releasing the bacteria into the water. 
3. The bacteria disperse completely in the pond and the bag disintegrates completely in the water without leaving any waste. 
Very Effective
Over the years, Canadian Pond has helped me with their great product line and helpful advice. Now it's my turn to pass on some advice. If you want Bacterius 5B to really work it's magic you need to couple it with bottom up aeration. The most dramatic change for the better,in terms of algae control and water clarity, for my 2 acre pond, came about when I coupled their BubbleTubing with 5B. This was the single most effective thing I've done for my pond and I couldn't be happier.
Bacterius® 5B
It's light and floats before sinking so it's utility is lessened.
Hi RGHawk, thank you for your review. The Bacterius® 5B comes in individually corn starch bags. The bags dissolves within 1 minute of touching the water then releasing the beneficial bacteria into the water. The bag will float during that dissolving period. The fact that the bag float momentarily does not lessen the efficacy of the bacteria. If you are looking for a target treatment to sink at the exact location you put it, the Bacterius Muck might be a better option for you. The Bacterius Muck is in pellet form which sinks at the bottom of the water without floating first.

Please do not hesitate to contact us if you have any questions we will be delighted to help you further
email : info@canadianpond.ca.