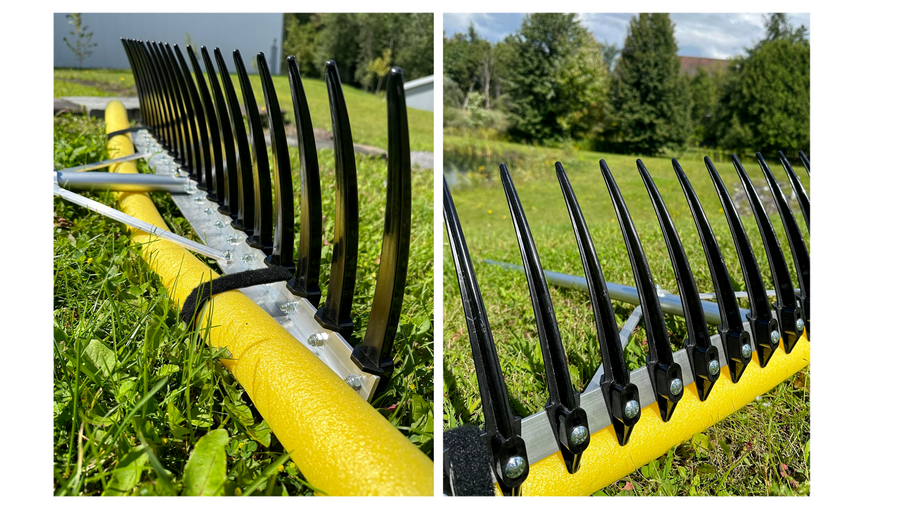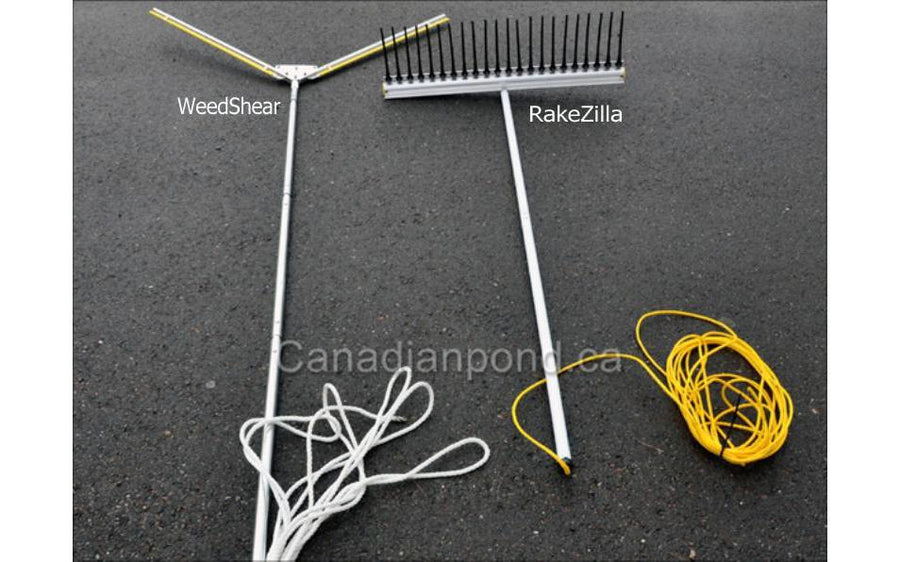 Price
Regular price

$229.00 CAD

Sale price

Regular price

$229.00 CAD
Shipping calculated at checkout
Control unwanted and invasive aquatic plants with our rakes for aquatic plants. Many cottagers suffer from the problems associated with aquatic weeds on the shoreline, a problem that becomes more acute as nutrient-rich sediment accumulates in the lake and water quality changes. CanadianPond.ca offers different packages designed for cutting and collecting aquatic plants from lakes and ponds.
Once these aquatic weeds have been cut using the WeedShear, they must now be picked up.  The RakeZilla is made for this.  Its reinforced and durable, extra wide head is made for this job.  It is 40'' wide and can remove large amounts of waste, plants and floating algae in one swipe. 
The weed rake is designed to collect floating aquatic plants and not those rooted at the bottom of the pond. To cut rooted aquatic plants please visit the weedshear webpage Click here . 
Designed specifically for handling aquatic plants;
Rake weight 2.9 kg (6.5 lbs) ;
10 rigid teeth made out of reinforced plastic 22.9 cm (9″);
Handle 213-335 cm (7′-11′);
7.6m (30') rope (25′) with float kit included;
10 years warranty against manufacturer's defects;
Click here to visit The WeedShear (weed cutter) webpage
Pas terrible !
Nous avons acheté ce rateau dans le but d arracher des plantes aquatiques style potamo crépu.Cette plante doit etre arracher par la racine et non couper.Le rateau n est pas assez lourd pour bien s ancrer dans le fond et lorsqu on le ramène, il ramasse plus de boue que de plantes car l espace entrent les dents est trop grand.Nous avons ajouté du poid mais ca ne fonctionne pas plus.Bref c est un rateau fait pour ramasser les plantes qui flottent a la surface de l eau mais sans plus.Pas remboursable et sera difficile a vendre.Tres deçu.
Bonjour M. Asselin, merci d'avoir pris le temps de faire une évaluation du produit. En effet comme mentionné dans votre commentaire, le râteau Rakezilla est fait pour ramasser les plantes aquatiques ou algues flottantes. Nous sommes désolés que le produit acheté ne fût pas à la hauteur de vos attentes étant donné votre besoin. Merci encore pour votre commentaire et si vous avez d'autres questions en lien avec votre étang, contactez-nous il nous fera plaisir de discuter avec vous!
Au plaisir!

L'équipe de CanadianPond.ca
Great Rake!!
Folks, this rack is exactly what we needed to clear out a small access pond. For years it has been used as a sort of dumping place for leaves. We bought the property and want to turn it back into a small wading area for our grandkids. The rack is doing the job of pulling out the leaves from the pond so we can dump them in the forest where they originally came from!!
Well worth the money paid.
It worked perfect.. thanks
Pond Rake
It's a good design and very durable.