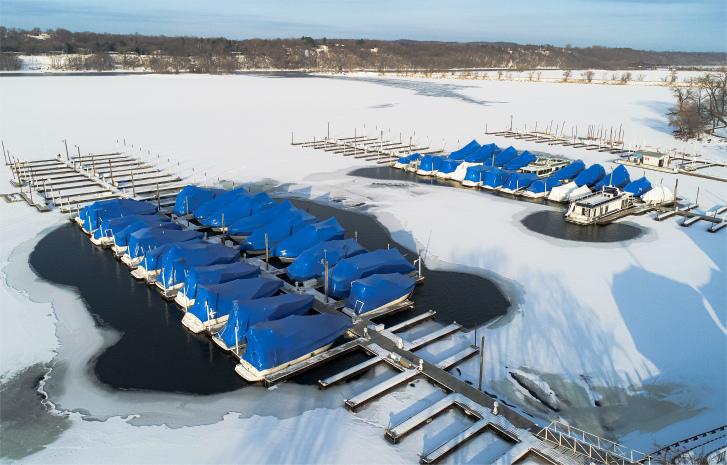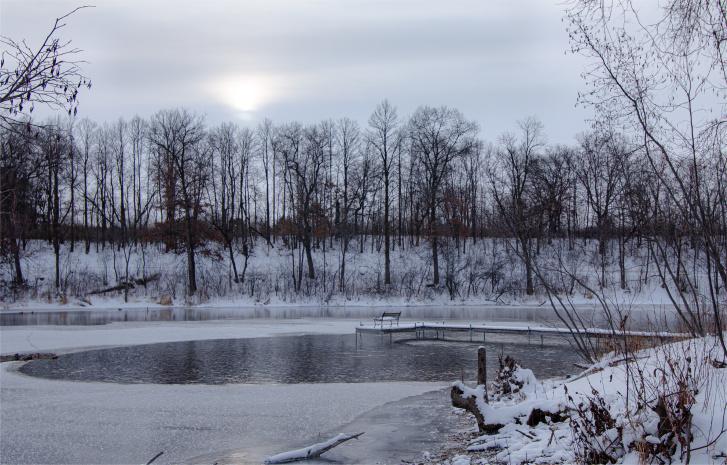 Price
Regular price

$1,160.90 CAD

Sale price

Regular price

$1,160.90 CAD
Kasco Marine de-icers, also known as circulators or agitators, are available at CanadianPond.ca, your Kasco Marine dealer in Canada.
Winter ice can damage your dock to the point of complete destruction. The thicker the ice gets, the more it also expands. This can literally destroy your dock. When the water level in a lake changes in the winter, the ice surrounding your posts can tear them off the sea floor.  The ice clinging to the structure shows how securely the expanding ice was attached. Kasco Marine de-icers are specially designed to be suspended from a dock or boat to prevent damage caused by ice expansion and water level variations. This animated video illustrates two of the ways you can position your de-icer.
Kasco de-icers use a propeller system that creates a vertical or horizontal movement of water to prevent ice from forming near docks, boat shelters and shorelines. The de-icer performs by moving warmer, denser water upward from the bottom of the pond or lake and circulates the water upward to the surface and sideways creating an agitation that reduces or eliminates ice build-up creating a large ice-free surface. Installation with a horizontal float or with a universal dock mount are options that allow you to precisely direct the movement of the water to strategically and precisely de-ice a particular structure. Ideal for fresh or salt water applications.

How to choose your deicer
Choosing the right de-icer is easy, refer to the ice opening chart (pdf) to find the best model and application kit for your needs. If Kasco de-icers do not meet your needs, visit the Thawline Linear De-Icers page. All Kasco de-icers are also available in 240V and/or 50 Hertz for the European market, call us for more information.

Kasco Marine De-Icing Chart (PDF)

 Timers & Control Box Options
Controlling your Kasco Marine de-icer with a thermostat or timer is a great way to save energy and extend the life of your de-icer by operating it only when needed.
The C-10 Thermostat allows you to determine an accurate temperature under which your unit starts.
The C20 Thermostat and Timer Control Unit combines the schedule of the day with the temperature at which you want your de-icer to operate.
Suspension ropes - Braided polypropylene yarns. 20′ x 5/16″, 2 lengths included.
Galvanized steel protection cage - Propeller protection. Vinyl coated for easy handling.
High quality propeller - Specially designed for maximum whirl at minimum energy cost.
Power cable - 25 feet of submersible power cable that remains flexible in the air despite temperatures as low as -45ºC (-50ºF). Waterproof connections for ease of installation and handling. Longer lengths are available as an option.
Zinc Anode - Changeable anode protecting against electrolytic corrosion. (The anode must be checked annually and replaced if necessary to ensure warranty coverage).
Seals - Double seal system to prevent oil leakage from the engine.
Shaft - Series #316 stainless steel, suitable for salt water.
Ball Bearing - Ball bearing lubricated in oil for better heat dissipation.
Oil - The oil used allows for limited maintenance, increased heat dissipation and better protection against moisture.
Motor - Standard design, 120V single-phase direct current, oil-immersed, overload-protected motor with automatic circuit breaker.
Capacitor - The capacitor ensures proper starting and operation of the motor.
Motor housing - Stainless steel, corrosion resistant, saltwater compatible.
2 year warranty
Check with local authorities to ensure that the addition of icebreakers is permitted in your municipality. The de-icing area should be well marked with a sign to warn all persons of the hazard. To be used with all types of de-icing systems.
Tech Sheet (PDF)
Owner's Manual (PDF)
Suspension with ropes - Vertical position - For de-icing in a circle shape
All Kasco de-icers include 2 x 20-foot ropes to suspend the de-icer under the dock or boat. These ropes are included in the de-icer box. Hang the system vertically on either side of the structure at a depth of 4 to 5 feet from the water surface. A vertical installation produces a circular de-iced surface. Another possibility is to attach the de-icer to each side of the boat with the suspension ropes so that the de-icer follows the tide or water level.
Horizontal float mount – Horizontal position – Produces long elongated pattern when no dock is available
You can also use the optional horizontal float set to create an elongated ice free space. The de-icer installed under the horizontal float can be positioned at different angles for added versatility. Ideal for :

Shallow water
Places where there are water level fluctuations such as: a tide or in a large lake where the waves are high.
Sites to be de-iced where there are no docks or structures.
Installation with universal dock support - Angled position - For elongated de-icing
The Universal Dock Support is made from thermal plastic components, corrosion protected steel and stainless steel to withstand the worst marine conditions. A stainless steel rod of 1″ diameter and 10 feet in length must be supplied by the purchaser to attach the de-icer and dock and structure mounting kit. With the new Easy Lock handle, adjustments in the water are child's play.

This option is ideal for creating an angle at the de-icer. It gives a very good precision of the surfaces to be de-iced. It is often easier to de-ice a boat by installing the de-icer at the bow and angling it towards the stern of the boat. If the water movement is directed towards the shore or a retaining wall, the water current will be directed on each side of the shore or wall to create a "T" shaped de-icing section.
Industrial Dock Mount
Kasco's industrial dock support, made of corrosion-resistant metal, requires 1.5" I.D. stainless steel pipe threaded at both ends and measuring a maximum of 10 feet (not included). It is manufactured to meet the most stringent environmental requirements. Moreover, thanks to its unique design, you can easily modify the angle, depth and positioning of the de-icer.
Security
Check with local authorities to ensure that the addition of de-icers is permitted in your municipality. The de-icing area should be clearly marked with a sign to warn anyone of the danger. For use with all types of de-icing systems. Click here to purchase the thin ice sign.
Kasco marine impeller deicer
Just got my deicer, ( 3/4 hp with a 100ft cord) and I got a chance to give it a test run , running on a generator (EU 2000 Honda) it had no problem, 👍👍.
Thanks Canadian pond.
De -Icer
Previously I wrote a negative review based on my belief that the product was not delivered. I was wrong and owe this company an apology.
The company representatives were responsive to the situation and i will continue to fo business with them.
Rayner
Hi Rayner, we are sorry you did not have the product when you wrote this review. Thank you for contacting us by email later on regarding this as we could determine together that you received the product. Let us know if the install went well. Cheers!